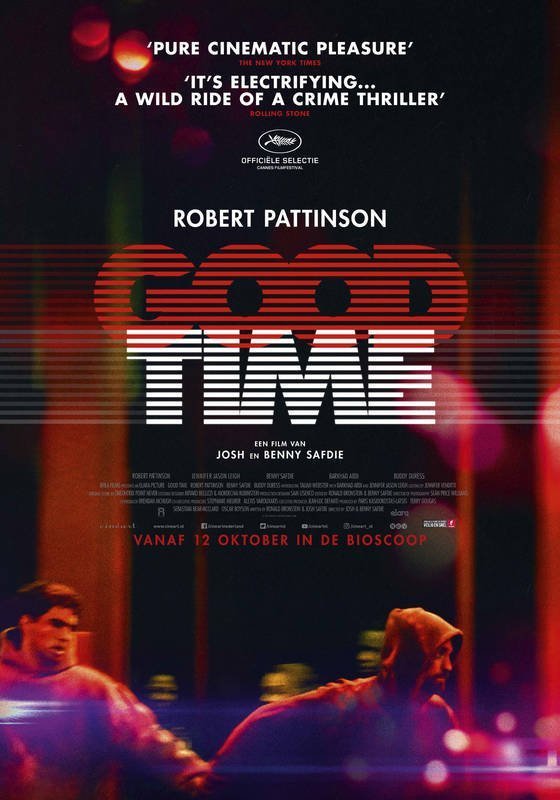 Good Time
Engels gesproken
Nederlands ondertiteld
Good Time is een hypnotiserende misdaad thriller over familie en noodlot. De Safdie Brothers (Benny en Joshua) geven je een adrenalinestoot en laten je een nacht in New York beleven die je nooit meer zult vergeten. Ze treden in de voetsporen van Scorsese en Coppola met pure cinema op het scherpst van de snede.
Na een mislukte bankoverval waarbij zijn jongere broer Nick (Benny Safdie) wordt opgepakt, probeert Connie (Robert Pattinson) wanhopig het geld voor de borgtocht te vinden om Nick vrij te krijgen. Op spectaculaire wijze ontspoort zijn plan en sleept hij alles en iedereen mee in de gewelddadige chaos waarin hij verstrikt raakt.
Robert Pattinson maakt grote indruk als Connie en laat je als kijker geen moment los. Ook Jennifer Jason Leigh zwicht voor zijn rauwe charme. Good Time werd geselecteerd voor de competitie van het filmfestival Cannes en won daar de prijs voor Beste Soundtrack.
Connie (Robert Pattinson) is worried about his brother. Locked up on Rikers Island, Nick (Benny Safdie) might not survive if he remains there. So Connie embarks on desperate race to raise the money that will free him.
The Safdies' thriller recalls early 1970s American cinema in the best possible way. Barrelling along to the sound of Oneohtrix Point Never's score and featuring Pattinson in his best performance to date, this is an urgent, white-knuckle ride through the lower depths of New York's underbelly.