LAB CLASSICS: LOCK, STOCK AND TWO SMOKING BARRELS
Guy Ritchie behaalde met zijn eerste film wellicht meer kritisch en financieel succes dan zijn collega's in hun gehele carrière bijeen zouden sprokkelen en werd op basis van zijn debuut Lock, Stock and Two Smoking Barrels één van de meest spraakmakende regisseur van het Groot-Brittannië van de eind '90 en begin '00. Deze hyper-gestileerde 'crime caper' annex zwarte komedie uit 1998 werd al snel vergeleken met dat andere gestileerde debuut van ene Quentin Tarantino en de Hongkongse misdaadspektakels van John Woo.
In het kader van zijn nieuwste film The Gentlemen keert Lock, Stock tweemaal naar onze bioscoop!
Vier vrienden, een half miljoen pond een grote puinhoop… Eddy, Soap, Tom en Bacon hebben een plan. Dankzij Eddy's pokertalent zullen ze op één avond een smak rijker worden. Wat ze niet konden voorzien, was dat de organisator geen zin heeft om eerlijk te spelen. Resultaat: de vier raken niet alleen hun centen kwijt maar staan nu ook een half miljoen pond in het krijt bij de gevreesde gangster. Ze krijgen één week om hun schulden goed te maken. Een week om een nieuw plan te verzinnen voor de Vereffenaar op bezoek komt. Met alle gevolgen van dien.
No shows available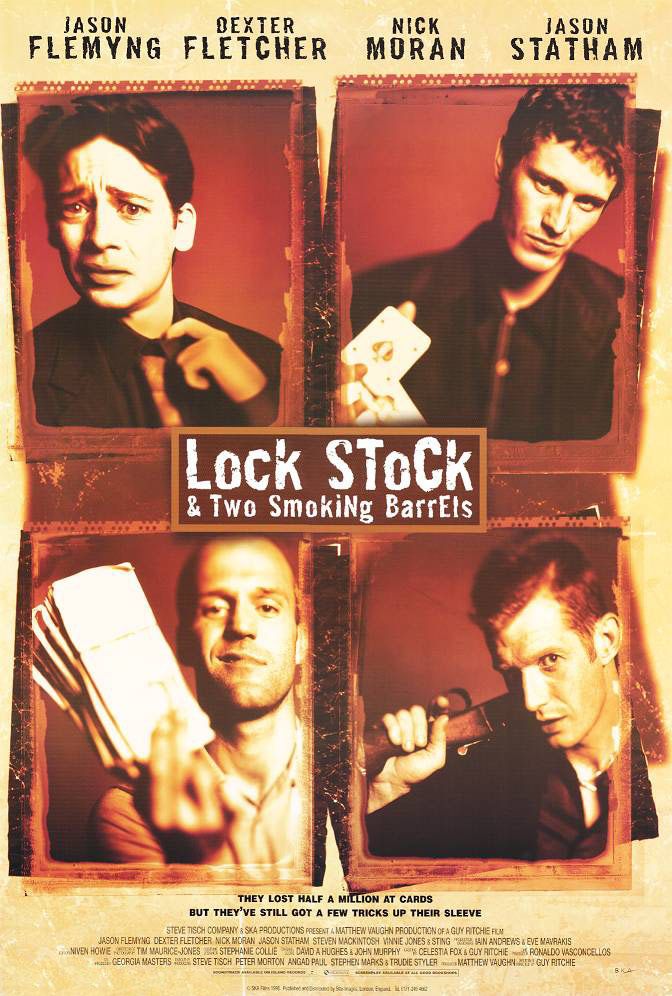 Jaar:
1998
Subtitles:
Nederlands
Speelduur:
1 uur en 49 minuten
Regisseur:
Guy Ritchie
Acteurs:
Jason Flemyng, Dexter Fletcher, Jason Statham