LAB CLASSICS: THE SHAWSHANK REDEMPTION
"Get busy living or get busy dying." De 25ste verjaardag van Frank Darabonts geliefde gevangenisdrama The Shawshank Redemption had wellicht op geen beter moment kunnen komen. Deze onmiskenbare 90's classic – verguisd bij release, herboren via de videotheek en inmiddels al jarenlang #1 'by popular vote' op de IMDb Top 250 – vertelt een ontroerend en humaan relaas over institutionalisering, vriendschap, gevangenschap en de onstuitbare drang naar vrijheid, dat ons nu nóg meer aan het hart gaat.
Morgan Freeman speelt in The Shawshank Redemption Red Redding, een tot levenslang veroordeelde gevangene die precies weet hoe het er binnen de Shawshank-staatsgevangenis aan toegaat. Tim Robbins is nieuwkomer Andy Dufresne, een stille bankier die ten onrechte is veroordeeld voor moord. Andy zit vol verrassingen, maar de grootste verrassing bewaart hij tot het laatst. The Shawshank Redemption is geregisseerd door Frank Darabont en het scenario is gebaseerd op een kort verhaal van schrijver Stephen King. Darabont's creatieve team achter de camera bestond destijds uit onder andere de Oscar-winnende cinematograaf Roger Deakins, editor Richard Francis-Bruce en componist Thomas Newman. De film was genomineerd voor zeven Oscars, in de categorieën: 'Beste Film', 'Beste Acteur' voor Morgan Freeman, 'Beste Bewerkte Scenario', 'Beste Cinematografie', 'Beste Montage', 'Beste Originele Muziek' en 'Beste Geluid'.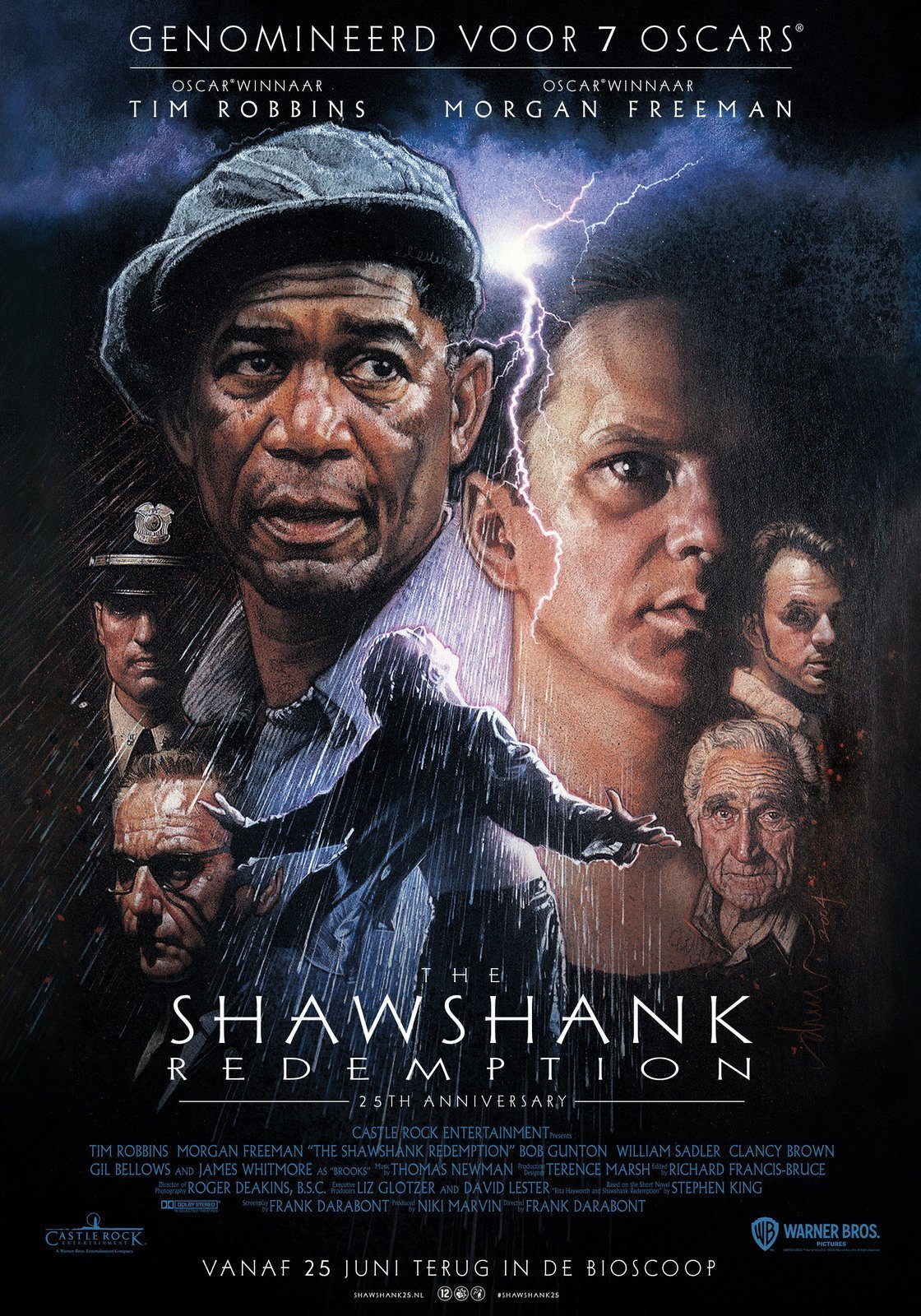 Regisseur: Frank Darabont
Acteurs: Tim Robbins, Morgan Freeman, Bob Gunton, William Sadler, Clancy Brown, Gil Bellows, Mark Rolston, Jeffrey De Munn, James Whitmore, Larry Brandenburg



Jaar: 1994
Speelduur: 142 minuten
Ondertiteling: Nederlands