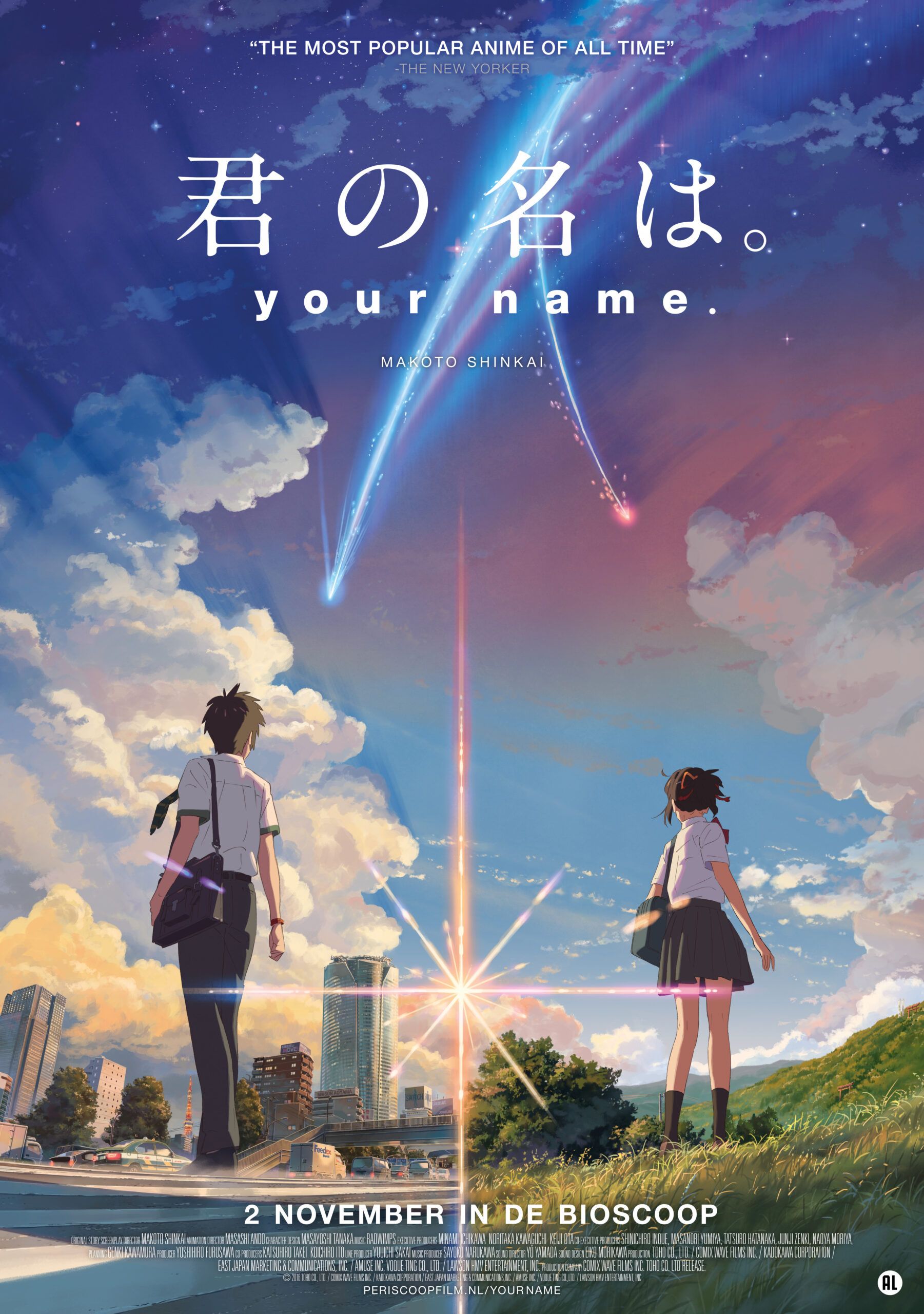 Your Name
Japans gesproken
Engels ondertiteld
Na een meteorieten-regen veranderen de levens van dorpsmeisje Mitsuha en stadsjongen Taki drastisch. Vanaf dan worden ze regelmatig wakker in elkaars lichaam. Een meeslepend, magisch en hartveroverend verhaal over dat er ergens in de wereld iemand is met wie jij onlosmakelijk verbonden bent.
Mitsuha droomt van de grote stad. "Maak me alsjeblieft een knappe Tokyo jongen in mijn volgende leven!" Als haar wens onverwacht uitkomt, verandert haar saaie voorspelbare leven in een spannend, hilarisch avontuur. Zonder dat ze er controle over hebben switchen ze van lichaam en leven. Als ze ook nog een manier vinden om berichten uit te wisselen, leren ze elkaar steeds beter kennen. Maar dan verschijnt er een gigantische meteoriet aan de hemel en neemt de spanning toe. Ze willen elkaar ontmoeten. Maar of hun connectie daar sterk genoeg voor is en zij dat zullen overleven?
Een overweldigende body-swap romance waarin tijd, het lot en de liefde van twee zielsverwanten samenkomen. Adembenemend geanimeerd: van hyperrealistische stadsgezichten en de meest spectaculaire astrale magie en natuurrampen tot hallucinerende beelden in krijtpastel. Zelfs de grootste cynicus kan niet anders dan zich hieraan overgeven en zich laten meevoeren naar een andere wereld. Niet voor niets is Your Name de allergrootse publiekslieveling wereldwijd uit de Japanse cinema.
After a meteor shower, the lives of village girl Mitsuha and city boy Taki change dramatically. From then on they regularly wake up in each other's bodies. A compelling, magical and heart-conquering story about the fact that somewhere in the world there is someone with whom you are inextricably linked.
Mitsuha dreams of the big city. "Please make me a handsome Tokyo boy in my next life!" When her wish comes true unexpectedly, her boring predictable life turns into an exciting, hilarious adventure. Without having control over it, they switch bodies and lives. If they also find a way to exchange messages, they get to know each other better and better. But then a giant meteorite appears in the sky and the tension mounts. They want to meet. But is their connection strong enough and will they survive?
An overwhelming body-swap romance where time, destiny and the love of two soul mates collide. Breathtakingly animated: from hyper-realistic cityscapes and the most spectacular astral magic and natural disasters to hallucinatory images in chalk pastels. Even the biggest cynic can't help but surrender to this and let himself be carried away to another world. It is not for nothing that Your Name is the biggest audience favorite worldwide in Japanese cinema.